We Work with Your Insurance Company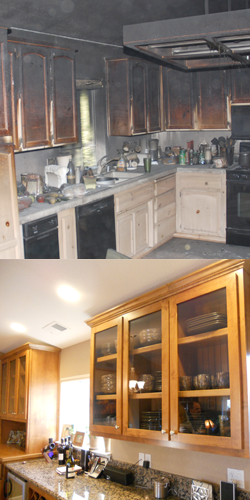 Improving your home during restoration
Restoration work may also be a good time to upgrade your house. If the upgrades are really needed or highly desirable, you should seriously consider doing them during the restoration. We have a great deal of experience working with insurance companies and knowing how to work with policy limits and upgrades.
Your insurance company is interested in finding a reasonable price for the scope of work necessary, provide the repairs that are needed but not overpaying. A good example of how this works is the restoration of the Frantz home in Cameron Park. Click here to see the video of her story.
RBI recommended structural repairs that were beyond policy limits, but the insurance company paid for them because we demonstrated they were necessary to properly rebuild the structure.
The owner wanted a kitchen upgrade that exceeded policy limits (see photos above). But because we performed the work as we were doing the other restoration, her "out of pocket" was $13,000 for what would have cost $75,000 as a separate project.