If you've had a Fire
Act quickly to avoid secondary damage
Once the fire is out, you have to deal with secondary damage caused by smoke and the water and chemicals firefighters use to put a fire out.
Call your insurance professional
Ask your insurance company to recommend fire restoration companies to make your house and property secure, remove water and seriously damaged materials/contents, dry the house and contents and remove smoke residue. It's not necessary or advisable to commit to any one company for further repairs right away.
<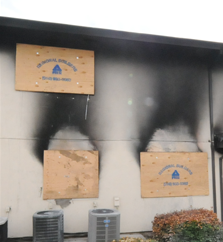 Secure the site immediately
Normally, your first-response restoration contractor secures your house to keep the curious and looters out. This usually involves boarding up windows, securing doors, covering fire and firefighting holes in the walls and roof. Rain, snow and freezing weather can make matters worse. In freezing weather you may have to drain all plumbing.
Dry out your house within 24 hours
In most fires, firefighters use at least some water. It can also get in through holes in the roof or walls or through broken windows. Wet materials quickly grow mold. Regional Builders uses high-performance dehumidifiers that can dry very rapidly.
Keep track of your expenses
Most policies allow advance funds for your family to find lodging. Keep all receipts, in order to be reimbursed by your insurance company. If possible, do not disturb or remove any items before the insurance adjuster arrives.
Take your time
No matter how badly repairs are needed, make sure you have all your questions answered and have a detailed, accurate and thorough estimate before you sign a contract for repairs. Also keep in mind that using a contractor to perform temporary services doesn't commit you to using that contractor for the rest of the repairs. You'll find more helpful information on this topic here.